Bhagavan : Film in 12 hours
16 Feb 09, 11:54am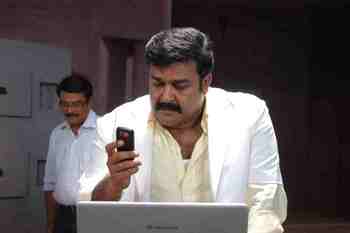 It is rare a Malayalam film sets world record and rarest when it is done by a debutant Director. Mohanlal starrer Bhagavan has set a new world record by completing the shooting in just 12 hours.

Even though Jayaraj's film Atbhutham was shot in 2 hours 14 minutes, it was an offbeat attempt and the whole action was limited to just two rooms and limited number of actors. While Bhagavan is a commercial venture, directed by newcomer Prashanth Mambully with a big budget and a stellar cast. Mohanlal appears in 52 of the 57 scenes.

This two-hour-long Malayalam thriller is about NSG commandos who rescue state home minister from a hospital building. Mohanlal plays one of the doctors who aids the operation of home minister in the hospital which is been taken over by terrorists.

Mohanlal's Dr.Balagopal, sees death face-to-face when he fights the terrorists along with the commandos. The film has scenes of commandos being airdropped a top the hospital.

Mohanlal plays a gynecologist in the film Bhagawan that has high-voltage action sequences. The camera department is headed by acclaimed cinematographer Lokanathan. There was dress rehearsal before the shooting at the hospital.

Cameras began to roll at exactly 9 a.m. and came to a halt a few minutes before 9 p.m.

It was a great challenge for all people associated with this film to make a full commercial movie so fast that it is to be worked non-stop.

9 camera units were used to film the movie. Six cameras were used to shoot a majority of the scenes from different angles to ensure continuity and save time.

There are 5 songs in this movie which presents five lyricists and five debutant music directors.
Other than Mohanlal, Nasser, Prakashraj Priyamani, Lakshmi gopalswami also acts in the movie.The film's shooting was held in thrissur.

Prasanth Mambulli, the new director will be noticed by the producers if the film becomes a success. Rs 2 crores is the budget of Bagavan in which 150 artistes worked.

Bagavan is produced by Vijesh Mani under the banner of Anaswara Cinemas.