Angry Babies in Love: Anoop Menon & Bhavana
17 Jul 13, 09:47am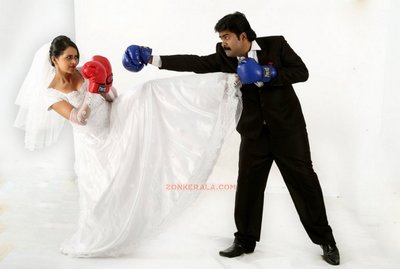 Directed by: Saji Surendran
Written by:Krishnan Poojappura
Producer:Darshan Ravi
Banner: Dimac Creations
Cinematography: Anil Nair
Music: Biji Bal
Release: Central Pictures

Starring: Anoop Menon, Bhavana, Nishanth Sagar, Parvathy Nair, Noby, Shajon


Anoop Menon and Bhavana play leading roles in Saji Surendran's upcoming movie Angry Babies in Love. As all the earlier Saji Surendran films, Angry Babies will be a full time comedy entertainer, with Krishnan Poojappura as the scriptwriter as in Husbands In Goa and earlier films.

Darshan Ravi produces this movie under the banner of Dimac Creations. Anil Nair is the cinematographer. Music is by Biji Bal. Central Pictures will be releasing this movie.

Angry Babies will be Anoop Menon's first full length comedy movie. The story revolves around Sarah (Bhavana) who loves and elopes with photographer Jeevan(Anoop Menon) to Mumbai. It happens just a day before her wedding. The duo gets married in Mumbai and differences between them also arises.

The couple soon realizes that the love is not the same as before when they have their differences. The shooting is underway in Mumbai.

Anoop Menon and Saji Surendran comes together for the first time for Angry Babies in Love.

Hope Saji Surendran magic works again.
Angry Babies in Love Movie Stills