72 Model: A Rajasenan Film
22 Feb 13, 02:26pm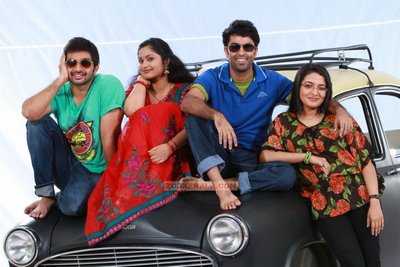 Directed by: Rajasenan
Written by: Rajasenan
Produced by: J Sarath Chandran Nair
Banner: Chand Creations Company
Cinematography: K.P. Nambiathiri
Art Director: Nadhan Mannoor
Music: M. Jayachandran
Lyrics: Rajeev Aalunkal, Santhosh Varma
Production Controller: Aroma Mohan
Starring: Govind Padmasoorya, Soniya Das, Sreejith Vijay, Nazrein Nazar, Madhu, Vijayaraghavan, Bharat Chand


72 Model is an upcoming Malayalam movie directed by Rajasenan. Govind Padmasoorya and Sreejith Vijay are in the leading roles. Soniya Das and Nazrein Naza are the female leads.

Chand Creations Company produces 72 Model. Camera is by K.P. Nambiathiri and music is composed by M. Jayachandran for the lyrics of Rajeev Alunkal and Santhosh Varma.

Madhu, Vijayaraghavan, Bharat Chand and many others are also in the cast. Director Rajasenan himself has written the story.

The story of the film 72 Model revolves around an old car. Vasutty and his son Sajan are taxi drivers. While Vasutty drives an old Ambassador car, Sajan drives an Innova. Deepak, and Parvathy are Sajan's best friends. Sajan happens to drive his father's car one day and this changes his life forever along with his friends. Janaki enters their life at this point. But what they thought to be a fortune for them turns out to be their greatest misfortune.

Govind Padmasurya and Sreejith Vijay are in the roles of Sajan and Deepak. New face actress Sonia Das does the role of Parvathy. Nasrin does the role of Janaki. Vijayaraghavan comes as Vasutty. Madhu also casts in an important role.

72 Model is expected to reach screens soon.
72 Model Movie Stills