Movies
:
Actors
:
Dileep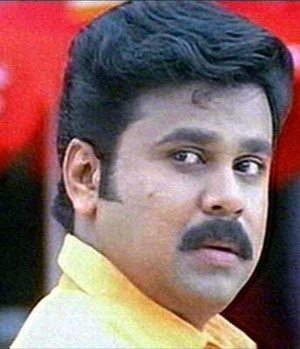 Dileep is the most popular and sought after star in the Malayalam film industry today. His real name is Gopalakrishnan. Born at Aluva near Ernakulam on October 27, 1968, Dileep was graduated from Maharajas College, Ernakulam. He is married to the famous Malayalam Actress Manju Warrier and has a daughter, Meenakshi.
Early Career
Dileep started his career as a Mimicry Artist in a troupe called Kalabhavan. Then he began to assist Director Kamal. His first appearance in the film was in a very small role in Kamals film Ennodu Ishtam Koodaamo. This was followed by films like Sudhinam, Manathe Kottaram, Vrudhanmare Sookshikkuka, Three Men Army, Sindoora Rekha, Kokkarakko, Saamoohyapadom, Malayala Masom Chingam Onnu.
Dilip's Rise to Stardom
His biggest break came in the film Sallapam. The film became a big hit and Dilip got a break as a hero in Malayalam films. Later came films like Ee Puzhayum Kadannu, Ullasappoonkattu, Nee Varuvolam, Mayaponman, Manthramothiram, Manasam, Kudamattom, Kalyanappittennu, Kaliyoonjal, Varnapakittu, Vismayam and Sundarakilladi. His film Punjabi House was a superhit and Dileep received a number of good movies like Meenathil Thalikettu, Chandranudikkunna Dikkil, Kaikudunna Nilavu, Anuragakottaram, Pranaya Nilavu, Megham, Deepasthambham Mahascharyam, Mr. Butler and Darling Darling.
The movie Joker, directed by Lohitadas, in which he acted as a Joker in a Circus Company, unchained him from the comic roles he was doing in the previous films. After Joker, he performed well as a hero in movies like Dosth, Soothradharan, Ee Parakkum Thalika, Ishtam, Mazhathullikkilukkam, Kuberan, Thilakkam, Sadanandante Samayam and Gramaphone. His film Meesa Madhavan was received well by the people of Kerala. In the movie Kunjikkonan, Dileep acted in double role, one role was as a ugly-looking hunchback.
Home Productions
He produced the film CID Moosa under the banner Grand Productions and acted in the same film. It was big success. The next film from his home production company was Kathavasheshan directed by TV Chandran.
Latest Movies
Dileep's recent movies are Runway, Perumazhakkalam, Rasikan, Kochiraajaavu, Paandippada, Chanthupottu, Lion and Pachakkuthira.
Awards
Dilip was honoured with the Mathrubhoomi Popular Actor of the year Award in 2002. He was selected as the best supporting actor by the Dubai Atlas film awards. He won Kerala State film Special Jury Award in 2002 and 2005 for his performances in the films Kunjikkoonan and Chandupottu respectively.