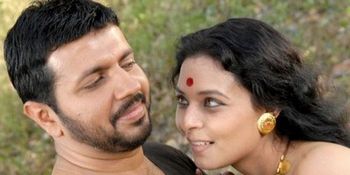 Sufi Paranja Katha
Cast : Prakash, Thampi Antony, Sharbani Mukherji, Irshad, Indrans, Samvritha, Vineeth Kumar, Jagathy, Augustin, Vijayan Karanthur, Babu Antony, K. B.Venu, Nanda Kishore, Valsala Menon
Director : Priya Nandanan
Story, Dialogue and Script: K. P. Ramanunni
Lyrics: Rafeeque Ahmed
Music: Mohan Sithara
Camera: K.G. Jayan
Banner : Kayal Films
Sufi Paranja Katha is an upcoming Malayalam movie directed by Priya Nandan. Sufi Paranja Katha is the fascinating story of the subtle relationships existing between Hindu and Muslim families in the early nineteenth century.
The plot develops around the marriage between Mammootty (prakash), a Muslim, and Karthy (Sharbani Mukherjee), a Hindu. Eventually they marry and Karthy gets converted to Islam. But she was unable to resist the customs and longings she had for her own religion.
The film is produced under the banner of Silicon Media by Prakash Bare who is also the hero in association with Thambi Antony who has burned his fingers with Blessy's Calcutta News.