Theevram: Dulquer Salmaan in the thriller film
21 Sep 12, 07:22pm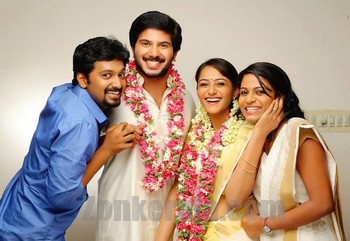 Written & Directed by: Roopesh Peethambaran
Producer: V.C Ismayil
Banner: VCI Movies
Music: Roby Abraham
Cinematography: Hari Nair
Editing: Kapil Kumar M.G
Cast: Dulquer Salmaan, Shikha Nair, Sreenivasan, Riya Saira, Janardhanan, Anu Mohan, Vinay Forrt, Vishnu Raghav


Dulquer Salman Mammootty is in the leading role in the upcoming Malayalam movie Theevram written and directed by Roopesh Peethambaran. V.C Ismayil produces the film under the banner VCI Movies.

Theevram is a thriller movie which tells the story of a young man and has a socially relevant message. Roby Abraham scores music. Hari Nair is the cinematographer. Kapil Kumar handles editing.

Shikha Nair, model-turned actress will be the leading lady. She was about make her debut in a Tamil film and that was put on hold to take this role. Sreenivasan play another important role in Theevram.

Riya Saira, Janardhanan, Anu Mohan, Vinay Forrt, and Vishnu Raghav are the other important people on the cast. After his successes in Usthad Hotel and Second Show, this is Dulquer Salman's third outing.

Theevram is shot in locations around Ernakulam, Alappuzha and Chalakudy. The film will reach screens in November 2012.
Theevram Movie Gallery