The Thriller: Prithviraj plays a Police Officer
13 Aug 10, 09:49pm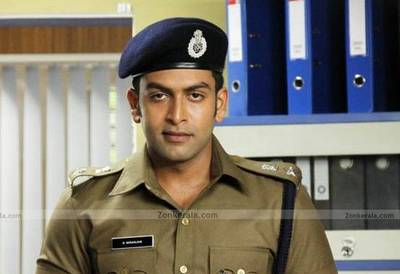 Direction: B.Unnikrishnan
Producer: Sabu K Cherian
Banner: Aanandha Bhairavi
Lyrics: Harinarayanan
Music: Bharani K. Dharan
Cast: Prithviraj, Siddique, Katherine Theresa, Jagathy Sreekumar, Lalu Alex, Sai Kumar, Riaz Khan, Vijaya Raghavan, Biju Pappan

Youth Icon Prithviraj plays a cop in the upcoming Malayalam movie 'The Thriller'. The film is directed by B.Unnikrishnan. Katherine Theresa, a Bangalore based model, will play the heroine in the film.

The film is an investigative thriller. Thriller is produced by Sabu K Cherian. Siddique, Jagathy Sreekumar, Lalu Alex, Sai Kumar and Riaz Khan play other important roles in this film.

Prithviraj plays the role of a top police officer, DGP Niranjan IPS, who investigates the mysterious death of a young man from a prominent business family in Kerala. The film will be an action packed entertainer.

Niranjan IPS investigates the murder of Simon Palathinkal, son of business tycoon Joseph Palathinkal.

The film has created records before release itself because, the film's satellite rights of the film is sold for Rs 1.45 Crore, the highest ever price for a solo Prithviraj film. Manorama News's new entertainment channel has bought the Television rights.
The Thriller Photo Gallery