Sringaravelan is the Onam release from Dileep
4 Sep 13, 11:25am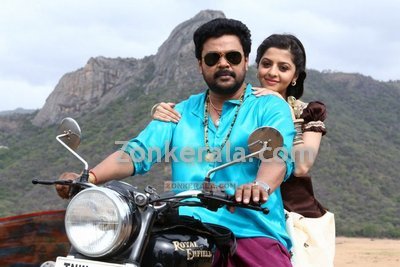 Janapriyanayakan Dileep's Onam release 'Sringaravelan' is getting ready. Tamil - Telugu actress Vedhika is the heroine. This Jos Thomas movie is set in the backdrops of Kuthampalli, a village near Ottapalam.

Sibi K Thomas - Udaykrishna team writes scripts for the movie. The Mayamohini team hopes to have success with Sringaravelan as well.

Dileep play the role of Kannan, who is from a weavers family. But he does not take up his traditional job and studies Fashion designing. Kannan starts his own business, but things does not work well for him. Unexpected turn of events takes him to Yesu, a quotation agent. What happens next becomes the plot of Sringaravelan.

Babu Nampoothiri play the character of Kannan's father Ayyappan Asan. Kalabhavan Shajon play the character of Vasu, Kannan's friend. Shammi Thilakan play SI Ukken Tintu. This character is taken from the recent superhit movie 'Neram'. Baburaj, Lal, Nedumudi Venu, Joy Mathew are also in important roles in Sringaravelan.

Shaji wields camera, editing by John Kutty, Berny Ignatious composes music for the lyrics of Rafeeq Ahmed. Jaison Elamkulam produces Sringaravelan under the banner of RJ Creations.
Sringaravelan Movie Stills