Padmashree Bharat Dr. Saroj Kumar: Superstar Saroj Kumar returns
30 Nov 11, 09:19am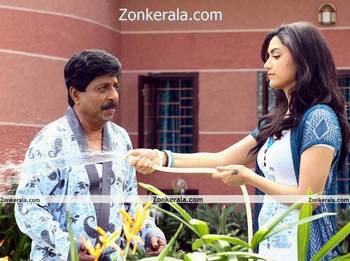 Cast: Sreenivasan, Mamta Mohandas, Vineeth Sreenivasan, Jagathy Sreekumar, Suraaj Venjaramood, Mukesh, Salim Kumar
Direction: Sajin Raaghavan
Produced by: Vaishaka Rajan
Banner: Vaishaka Cinema
Written by: Sreenivasan
Music: Deepak Dev
Cinematography: S. Kumar

Padmashree Bharat Dr. Saraoj Kumar marks the return of Sreenivasan's character Super Star Saroj Kumar from the film Udayananu Tharam. But this film is a not a sequel although some of the characters of Udayananu Tharam will appear in this one too.

Padmashree Bharat Dr. Saraoj Kumar is directed by Sajin Raaghavan. The flick is produced by Vaishaka Rajan under the banner Vaishaka Cinema. The story is written by Sreenivasan.

Mamta Mohadas is the heroine. Jagathy Sreekumar who played Pachalam Bhasi in Udayananu Tharam will have the same role in this film along with Salim Kumar's Rafeeq and Mukesh's character Babykuttan. Udayananu Tharam had Mohanlal as Udayan. But he will not appear in this film.

Deepak Dev handles the music department while S.Kumar is the man behind the camera.

Sreenivasan's son Vineeth Sreenivasan also play an important role in this film. Padmashree Bharat Dr. Saraoj Kumar will grace theatres soon.
Padmashree Bharat Dr. Saraoj Kumar Stills