Nair San : Jackie Chan acts with Mohanlal
5 Jul 09, 07:18pm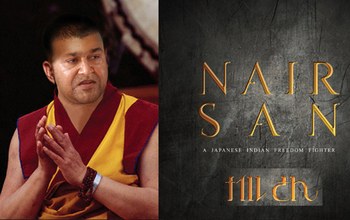 Here comes a film about the life of Ayyappan Pillai Madhavan Nair, who had fought against British rule in India from Japan. Mohanlal will play the key role.

The film will be directed by Albert, who has won Aravindan Puraskaram and Padmarajan Special Jury Award. Nairsan is co produced with Japan's Pal Entertainment Production. Director Albert had made Malayalam film Kanne Madanguka earlier.

The happenings in this realistic film take place between 1920 and 1970. Leading Japanese actress Shunsuken Matosuoka will star opposite Mohanlal.

Ayyappan Pillai Madhavan Nair

Nair, who was popularly known as Nairsan, worked in Japan. He had good contacts with Rash Behari Bose, one of the founders of the Indian National Army (INA). Nairsan was the chief link between the Indian freedom movement and the Japanese Government

This prominent figure, who is the owner of world famous Ginza Nair Restaurant in Tokyo, is a native of Thiruvananthapuram. He arrived in Japan as an engineering student. Later he settled down in Japan and married a Japanese girl.

Nairsan lived in Japan for over half a century and spent several years in Manchuria. There, he was unofficial advisor to the Manchukuo Government and the Kwangtung Army. He also conducted an anti colonial Movement against British imperialism in India and other parts of Asia.

Hong Kong action hero Jackie Chan will also be part of the movie. The action sequences featuring Jackie Chan and Mohanlal will be shot at the Mongolian desert in the Russia-China border. Jacky Chan's role will be that of a savior who helps Nairsan during the fight in the Mongolian desert.

Music maestro A.R.Rahman will be doing magic with strings for this film.

The film will be shot in Japan, Sri Lanka, Kerala, the Himalayan region and a few other places where Nairsan had lived.

Mohanlal has allotted 125 days for the movie.

The film which has an estimated Production cost of 60 crores will be made in Malayalam, Japanese and English. Nairsan will have a world-wide release.