Ennennum Ormmakayi comes with new faces
14 Jun 12, 06:37pm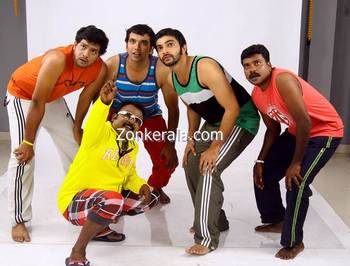 Director: Robin Joseph
Banner: Susmitha Cine Productions
Producer: E K James
Screenplay: Pramod Vaikom
Cinematography: Bijoy
Music: Syju - Ranju

Cast: Sreejith Vijay, Dhanya Mary Varghese, Jubin Raj, Badusha, Ananthu, Bijukuttan, Anoop Chandran, Bheeman Raghu, Kochu Preman, Shammi Thilakan, Majeed, Sudheer, Shivaji Guruvayur, KPAC Lalitha, Ambika Mohan, Kolappulli Leela, Sinimol, Unnimaya


Casting new faces, debutant director Robin Joseph started shooting for the Malayalam movie Ennennum Ormakkayi. E K James produces the movie under the banner Susmitha Cine Productions.

Pramod Vaikom writes the screenplay for the film. Bijoy handles cinematography. Syju and Ranju composes music for the lyrics of Vayalar Sarathchandra Varma.

Ennennum Ormakkayi is the story of four friends, Abdu, Sidharthan, Ananthu and Kunju. Because of the difficulties in life, Abdu try to go to Gulf. But the Visa agent deceives him. He, along with his friends roam around in the city, when they find a group of people beating a man. They come to the rescue of the man. People around tell them to escape, as they were fighting with the local rowdy gang of Palayam Murugan and they may come again.

To save themselves from Palayam Murugan and his gang members, they take the help of his opposite gang leader Blade Satheesh. The consequences these youngsters face form the story.

Sreejith Vijay, Jubin Raj, Badusha and Ananthu play the roles of the four youngsters in the film, while Dhanya Mary Varghese play the female lead.

Ennennum Ormakkayi started shooting in Thodupuzha.
Ennennum Ormmakayi Photo Gallery