Arike: Shyamaprasad Film with Dileep
17 May 12, 10:57am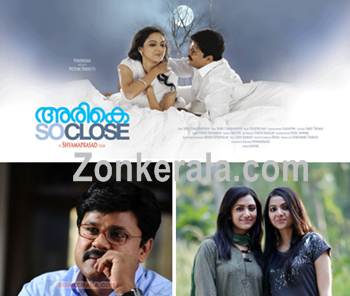 Directed by: Shyama Prasad
Produced by: T. K. Suresh Babu
Banner: Picture Perfect Company
Story: Sunil Gangopadhyay
Screenplay: Shyamaprasad
Lyrics: Shibu Chakravarthy
Music: Ouseppachan
Cinematography: Azhagappan
Cast: Dileep, Samvrutha Sunil, Mamta Mohandas, Biju Menon, Urmila Unni, Chitra Iyer, Vineeth,
Innocent, Ajmal, Madambu Kunjikannan, Dinesh Panicker, Sreenath bhasi


Arike is all set to release on May 18th. Directed by Shyama Prasad, Arike is produced by T. K. Suresh Babu under the banner Picture Perfect Company.

Dileep play the protagonist of the film. Samvrutha Sunil and Mamtha Mohandas are the female leads. Biju Menon, Urmila Unni and Chitra Iyer play other important roles.

Vineeth, Innocent, Ajmal, Madambu Kunjikannan, Dinesh Panicker and Sreenath bhasi are the others in the cast.

The story of Arike is based on a short story written by the Bengali writer Sunil Gangopadhyay. Screenplay is by director Shyamaprasad himself. Shibu Chakravarthy penned the lyrics, while Ouseppachan composes the music. Azhagappan handles cinematography.

Arike is the story of the researcher in Linguistics, Shantanu, played by Dileep and his two friends, Kalpana (Samvritha Sunil) and Anuradha (Mamta Mohandas). Anuradha is a sensitive person who had some bitter experiences in love. Kalpana and Shantanu care a lot for each other and Anuradha wants to bring them together.

Like previous films of Shyamaprasad, Arike also deals with love. Arike was shot completely in Kozhikkode.
Arike Movie Stills