Thrissur Tourist Places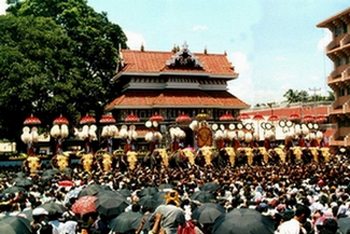 Thrissur is the cultural capital of Kerala, famous for Thrissur Pooram. The famous Guruvayur Temple is in Thrissur district. Vadukkumnathan Temple and ParamelKavu are the other two temples of fame. The famous Kodungallur Bhagavathi Temple is also in Thrissur district.
There are some other places of tourist interest also like Athirappalli and Vazhachal Waterfalls, and Punnathoor Fort. Cheruthuruthy, the home of Kalamandalam, the school of dance and music, is also in the Thrissur district. Kerala Sahitya Akademi, Kerala Sangeetha Nataka Akademi and Kerala Lalithakala Akademi are head quartered at Thrissur. Shakthan Thampuran Palace, Archeological & Art Museum, Thrissur Zoo, Appan Thampuran Smarakam, Vilangan Kunnu, and Chimmini Dam are some of the important tourist spots in the district.
Thrissur Pooram is the major festival of this district. Lakhs of people throng Thrissur during Pooram, to watch the decorated elephants, melams, kudamattom and the fireworks.
health prose
Toursist Places