Kerala Tourist Places : Kollam :
Thankassery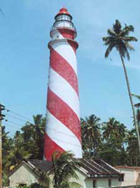 Thangassery is located 5 km away from Kollam town. The Thangassery Light House which is 44 meters high is very famous and stands as a sentinel, warning seamen of the treacherous reefs of Thangassery. The present light house tower was built in 1902. It is opened for visitors from 3.30 pm till 5.30 pm.

Thankassery is the centre of Anglo-Indians. The place was first under the control of the Portuguese, then the Dutch and then the British. Remains of an old Portugese fort is seen here. The churches in Thankassery were built in the 18th century.
---
Thankassery Related Links
Jadayuppara Vallikkavu Kottarakkara Ganapathi Temple Thevalli Palace Parabrahma Temple, Ochira Model Adventure Park Chenthurni