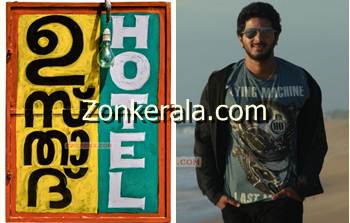 Usthad Hotel
Direction:
Anwar Rasheed
Producer:
Listin Stephen
Banner:
Magic Frames Entertainments
Distributor:
Central Pictures
Music:
Gopi Sunder
Lyrics:
Rafeeq Ahmed
Written by:
Anjali Menon
Cinematography:
Lokanathan
Editing:
Mahesh Narayanan
Cast:
Dulquar Salman, Bhagath Manuel, Nithya Menon, Thilakan, Aryan Menon, Siddique, Mamukoya, Lena, Kunjan
Mammootty's son Dulquar Salman joins hands with Anwar Rasheed in the upcoming movie 'Usthad Hotel'. Malarvadi fame Bhagath Manuel, Nithya Menon and Thilakan are the other leading people on the cast.
The film is expected to grace theatres in February.