Thappana : Mammooty as Mahout
17 Aug 09, 06:44pm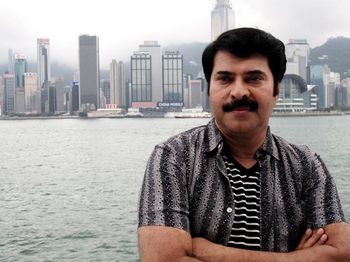 Akku Akbar, who was behind the big commercial success Veruthe Oru Bharya, starring Jayaram is teaming up with Mammooty for his next venture. The movie titled Thappana is on, and the script is by Reji Nair who had earlier scripted Lal Jose-directed Mammooty film Pattaalam. Reji Nair has proved he can find good story, but he will get carried away by the commercial elements to be incorporated in the film.

Veruthe Oru Bharya made it big because it communicated with the thoughts and resembled the lives of housewives which constituted a major portion of the Kerala Population. Jayaram accepted his age in the film and looked and acted differently from his other films. The camera done by Shaji was good, and the film had a heart. Any way its success was beyond the dreams of its director and Producer. No reviewer has forecasted its monumental success. Veruthe oru Bharya was the second biggest hit of year 2008, after Annan Thampi.

Akku Akbar was earlier part of the Akbar-Jose duo, who had taken some good films. He turned independent director with Gauri the Unborn a Hindi film. Gauri delt with a different subject, what will happen to the soul of an unborn child if it were killed by parents?

Thappana is a Malayalam word which means an elephant used to train wild elephants. The film narrates the story of the emotional bonding between a man and an elephant. In this film, Mammooty plays the role of Ganapathy.

Elephant Kannan which belongs to actor Jayaram was chosen to be part of the film. Earlier Kannan elephant had featured in Mammootty's Rappakal. Kannan has recently won the prestigious 'Gajarajapattom' award from Kodannoor Dharmashastha Kshethram. Kannan is famous for his calm behavior and has acted in more than 33 films.

Suraaj Venjaramoodu plays a key role in the film.

Thaappaana is produced by Anto Joseph, who was earlier a Production Executive. He has also co produced Big B and Shafi's Lollypop which turned out to be a grave mistake.